What's Next
So, you've received your UNA acceptance letter, but there's probably one big question that you're asking – what's next? No worries! We've got you covered! This page will walk you through those all-important checklist items that will help prepare you for your UNA journey!
Immediately After Receiving your acceptance packet:
Set up your UNAPortal e-mail account and check it often!
Take a selfie with your acceptance letter and post to our social media. Use the hashtags #myUNA and #UNA2021.
Get Connected! Access UNA Portal.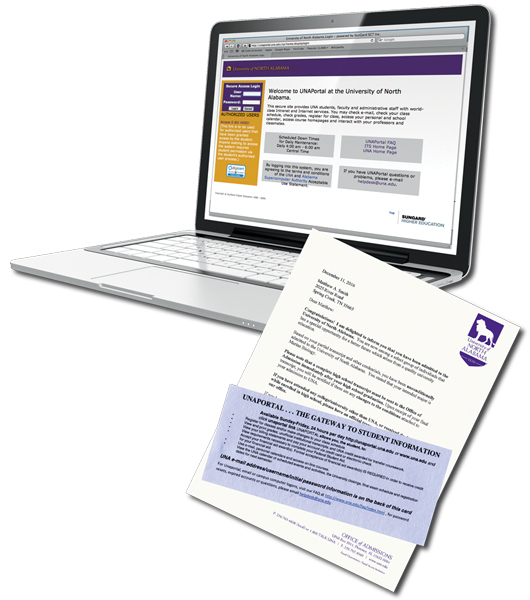 How will you stay connected with UNA after you're accepted? Through your UNAPortal account, of course! UNAPortal provides you with a campus e-mail address, and it is considered the official means of communication for the University. You will receive communications from academic departments and student organizations via UNAPortal after you are accepted, so it is important to check it early and often so you don't miss anything! Later on, you'll be able to complete any unsatisfied financial aid requirements, accept your financial aid package, finalize your university housing, register for courses, view your class schedule, check grades, and pay your bill all through UNAPortal. To access your account, look for the purple card that came with your acceptance letter; this will list your UNAPortal e-mail address and initial password so you can access your account.
Information Technology (ITS) Help Desk
The UNA ITS Help Desk is available Monday through Friday, from 8:00 a.m. until 4:30 p.m., and can be reached by phone or e-mail. The Help Desk can assist students with a variety of issues including trouble with campus wireless connections, password resets, and problems with or questions about e-mail. Contact the UNA ITS Help Desk by e-mail helpdesk@una.edu or by phone at 256-765-4865.
Get Funded! File the FAFSA.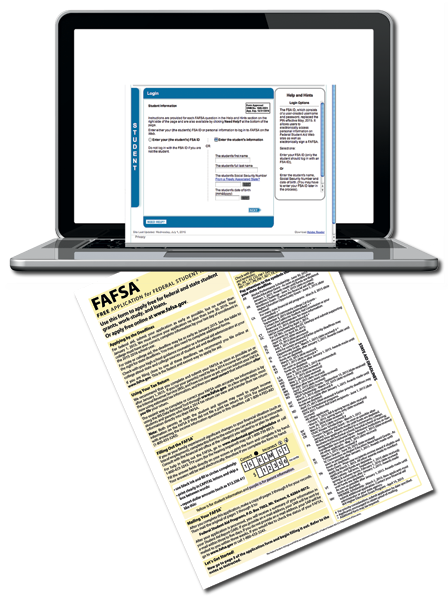 One of the most important "next steps" is determining how you will pay for your tuition and fees. This is where the Free Application for Federal Student Aid (FAFSA) comes in. The FAFSA application must be filed each year in order to determine your eligibility for Federal Pell grant, federal student loans, and federal work-study. The application will use your parents' tax information from the previous year to determine what types of aid you can receive. Filing the application early will allow you and your parents enough time to find additional funding sources, if necessary. UNA Student Financial Services recommends that the FAFSA be filed by June 1 each year at the latest. File the FAFSA here. Get information about scholarship opportunities here.
Get a Room! Apply for the Residence Halls.

At UNA, we feel that you'll be able to make the most of your college experience if you are totally immersed in the lion lifestyle 24-hours a day, 7 days a week! Therefore, we require all first time, full-time freshmen to live on campus in a residence hall for up to one academic year.* Our residence halls will be your home-away-from-home and will provide the perfect setting, whether you are hanging out with new friends or studying for that final exam. The residence hall application will go live on the web on December 1, 2015, so be sure to file your application early to reserve your perfect room!
*Some exemptions apply, including living at your parents' permanent residence. Visit www.una.edu/liveon for more information about exemptions.
Get Oriented! Sign up for Student Orientation, Advisement and Registration (SOAR).
Finally, you need to know that you won't be starting classes without a proper introduction to campus life! Before starting your UNA journey, you will attend Student Orientation, Advisement, and Registration (SOAR) during the summer. This action-packed, on-campus event will allow you to get more information about student organizations, financial aid, housing, and overall campus life. You'll even be able to meet professors and register for your fall courses! It's a fun and informative event that you just can't miss! Registration for SOAR opens up on January 6, 2016. See web address below for more information about upcoming SOAR dates. 
What to bring to SOAR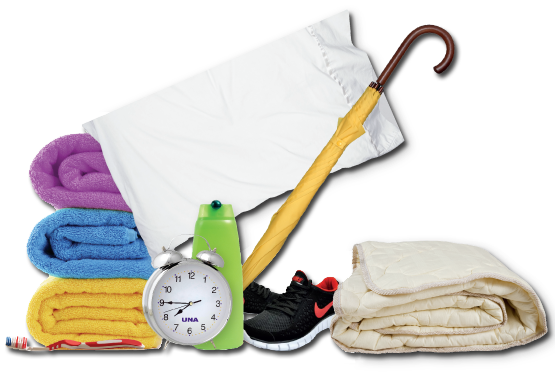 State Issued Picture ID
Car tag # and c

ar registration for the car you'll be using at UNA

(The MANE Card# on the vehicle registration form is the L# you received in your admissions acceptance letter.)

Linens, Blanket, and Pillow
Towels and Toiletries
Alarm Clock
Umbrella
Comfortable Casual Clothes and Walking Shoes
Tennis Shoes
Remember to bring all of your overnight items with you at check-in!
Get Immunized! Submit immunization/health information prior to registration.
Have questions about your immunizations? Contact University Health Services: 256-765-5127 • una.edu/healthservices
Additional things to do before you Arrive at UNA
Beginning in December 2016
Apply for housing online at: una.edu/liveon. The online application will be available in December.
Beginning in January 2017
REGISTER for Student Orientation, Advisement, and Registration (SOAR). Registration opens up in January. una.edu/orientation
Attend Step Sing event in February to see our student organizations in action!
File the Free Application for Federal Student Aid (FAFSA) by April 30.
SUBMIT IMMUNIZATION DOCUMENTS before you register for classes at SOAR.
Last but not least
Schedule a campus visit, if you haven't already! Go to una.edu/visit to schedule your campus tour.
Attend SOAR session in June or July.
Participate in Mane Month activities.
Start classes in August!